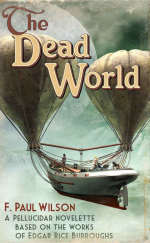 Synopsis: A Pellucidar novelette written with the approval of the Edgar Rice Burroughs estate. A plague is spewing forth from the Dead World, the stationary moon that hovers over the Land of Awful Shadow in the land within the Earth. David Innes, Emperor of Pellucidar, and the eccentric inventor, Abner Perry, rig a balloon to carry them to the Dead World. But Pellucidar's mysterious moon is not what it seems, and far more bizarre than they ever dreamed. It holds the answer as to how Pellucidar was formed – and how it will be destroyed. Can they stop the plague before it wipes out all life in the Inner World?
---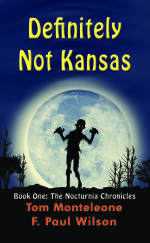 Synopsis: Welcome to Nocturnia, where the monsters have their own nation states and humans are either slaves, or food, or both. Where even the flowers will suck your blood if you venture near. As Emma and Ryan search for a way home, they come to suspect they did not arrive in Nocturnia by accident. But if not, why are they here? Are their destinies somehow entwined with this nightmare world?
---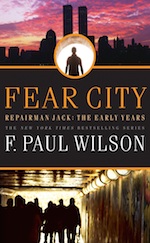 Synopsis: The concluding chapter of Repairman Jack: The Early Years, the prequel trilogy focusing on the formative years of Wilson's globally popular supernatural troubleshooter.The strands of Jack's life, established in the first two books, Cold City and Dark City, are now woven into a complete pattern.
Centered around the events leading to a terrible explosion in New York City in 1993, Fear City shows the final stages of young Jack becoming Repairman Jack. A dark story, full of crisscrossing plots and startling mayhem, with secret agents, terrorists, a freelance torturer, a secret society as old as human history, love, death, and a bleak triumph. Jack threads his way through this intricate maze, as people he loves are stripped away from him in a way that presages the later epic series of novels.
---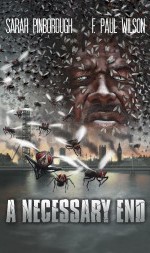 Synopsis: LIFE CAME OUT OF AFRICA… But now it's death's turn… It spreads like a plague but it's not a disease. Medical science is helpless against the deadly autoimmune reaction caused by the bite of the swarming African flies. Billions are dead, more are dying.
A very few seem immune. They call themselves mungus and preach acceptance of the plague, encouraging people to allow themselves to be bitten by "the flies of the Lord" so that they may join Him in the afterlife.
A Necessary End is about apocalypse, about love, about the fragile bonds that hold marriages and civilizations together. But mostly it's about truth – how we find it, how we embrace or reject it, and how we must face the truths within ourselves.