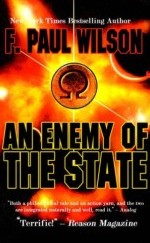 Synopsis: The Outworld Imperium began as a rebellion by colonials seeking independence. Two centuries later it is a bloated bureaucratic "business" – a business that produces nothing. Its income is not derived from a free exchange for goods or services, but from taxation. Its a business that never shows a profit, is always in the red, and continually borrows to make up staggering deficits.
Peter LaNague's unique revolution sets out to topple the entrenched Outworld Imperium as well as fundamentally altering every Outworlder's concept of government. To accomplish this he must ally himself with a madman, trust the word of the last of Sol System's robber barons, make incisive use of the consummate warriors from the planet Flint (without allowing them to run amok), confound at every turn the omnipresent forces of the Imperium, and, every now and then, make it rain money.
Those are the easy parts.
LaNague's greatest challenge is to see his plan through to completion without becoming the very enemy he has vowed to destroy.
---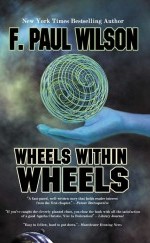 Synopsis:  Winner of the first Prometheus Award.
A monstrous conspiracy is brewing against the LaNague Federation and the freedoms its guarantees to its member planets—at least that's what Old Pete says. He's come to the offices of Interstellar Business Advisors, a firm he co-founded more than half a century before, to enlist the aid of its current CEO, Josephine Finch. Dubious at first, Jo humors the old man by promising to look into the matter.
She does not have to look far before she is convinced that something is afoot, something that will not bear the light of day, something involving a revolutionary means of interstellar travel. And when one of the trails leads to the planet Jebinose, site of her father's bizarre death, Jo finds herself personally involved.
She is soon pitted against one of the shrewdest, most devious minds in Federation politics, and against a wild-card psi who might well destroy them both. But what Josephine Finch begins, she finishes.
Wheels Within Wheels follows her on a course that involves five planets and three alien races. Before she is through she will bring the galaxy's largest corporation to its knees, avenge her father's death, abort a cynical political plot, and start an interstellar war.
Don't mess with Josephine Finch.
(Bonus LaNague short stories: "The Man with the Anteater" and "Higher Centers" – plus a foreword by the author)
---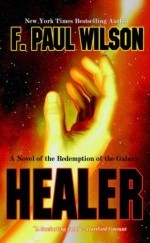 Synopsis: Wilson's first novel that introduced the award-winning LaNague Federation series.
Winner of the Prometheus Hall of Fame Award – thoughtful, idea-centered science fiction.
Steven Dalt should have died in that cave on the planet Kwashi. After all, as the natives say, of a thousand people attacked by the cave-dwelling alaret, one will not die. But Dalt is that one. He survives, but not without personal cost: he has picked up a passenger: an alien intelligence transferred itself from the alaret to take up residence in his brain. Steven Dalt will never be alone again.
But Pard, as Dalt names the alien who shares his life, doesn't believe in freeloading. He pays his rent by using cellular-level consciousness to maintain Dalt's body in perfect health—no disease, no aging. And now Dalt appreciates the full meaning of the Kwashi natives' saying: Of a thousand struck down by an alaret, one will not die . . . ever.
Spanning twelve hundred years, HEALER follows Dalt and Pard through the centuries as they become known as The Healer, an enigmatic figure with the power to cure diseases of the mind. And when a wave of interstellar slaughter threatens the civilizations of the LaNague Federation, only The Healer has the resources to face the onrushing doom.
(Bonus LaNague short story: "To Fill the Sea and Air" – plus a foreword by the author)
---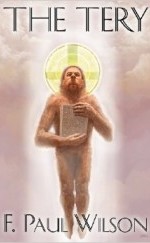 Synopsis: Heroes don't always look the part. He was a tery, a lean, bearish creature with no name. The human soldiers left dead. Just another dumb animal on their extermination list.
But he didn't die.
Animals weren't the only beings on the list. Certain humans were marked for extinction as well. A fugitive band found him and brought him back from the brink. He became their pet, their mascot.
And still he had no name. He was simply "the tery."
He soon learned that these were no ordinary humans, and learned too that he was no ordinary tery. The humans had no idea that the creature they fed table scraps and patted on the head would soon turn their world upside down and change it forever.
By then he had a name.
The Tery is a beauty-and-the-beast fable that only F. Paul Wilson could tell, full of wonder and horror, brimming with strange landscapes and hideous mutations from science run amok. An unforgettable tale of the extremes of the human spirit–of bravery and depravity, of innocence and evil.
---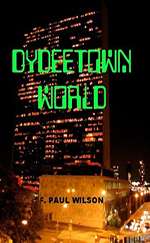 Synopsis: Welcome to the future…
Where the cream of humanity has left for the outworlds, leaving the rest behind… Where genetically redesigned T. rexes have supplanted pit bulls… Where population control measures have created an underclass of Urchins, unlicensed children who have no rights – not even the right to exist… Where wireheads with chips in their brains live vicariously through the downloaded experiences of others… Where the UN has been turned into a brothel known as Dydeetown, peopled by clones of famous personalities from history and entertainment…
Where a Dydeetown clone of Jean Harlow asks a down-and-out private eye named Sig Dreyer to find her missing lover.
Though Sig loathes the idea of working for a clone, Harlow-c is paying in gold, and that's hard to turn down. Just a missing-person case…should be simple enough. But neither realizes that Sig's investigation will tip the first domino in a cascade of events that will turn their world upside down.
Described as "William Gibson meets Raymond Chandler," DYDEETOWN WORLD whips the classic tropes of noir fiction and far-future cyberpunk into a relentlessly paced novel about freedom, friendship, and self-esteem. Beneath its hardboiled voice, its seamy settings, and violent events are people trying to make a human connection…and changing the world in the process.