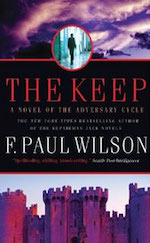 Synopsis: "Something is murdering my men."Thus reads the message received from a Nazi commander stationed in a small castle high in the remote Transylvanian Alps. Invisible and silent, the enemy selects one victim per night, leaving the bloodless and mutilated corpses behind to terrify its future victims.
When an elite SS extermination squad is dispatched to solve the problem, the men find something that's both powerful and terrifying. Panicked, the Nazis bring in a local expert on folklore—who just happens to be Jewish—to shed some light on the mysterious happenings. And unbeknownst to anyone, there is another visitor on his way—a man who awoke from a nightmare and immediately set out to meet his destiny.
---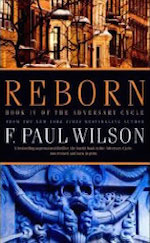 Synopsis: When an ancient artifact dissolves in the hands of a man calling himself Mr. Veilleur, he knows something has gone wrong… terribly, cosmically wrong.
Dr. Roderick Hanley, Nobel Prize-winning geneticist, dies in a plane crash. His last words: "The boy! They'll find out about the boy! He'll find out about himself!" When Jim Stevens, an orphan and struggling writer, learns that he is the sole heir to the Hanley estate, he is sure he has at last found his biological father. But he's only half right. The true nature of his inheritance—and the truth about his conception—will crush him.
In New York City a group of Charismatics has been drawn together—without invitation, simply showing up at a Murray Hill brownstone—with a sense of great purpose. Satan is coming, and they have been chosen to fight him.
Mr. Veilleur too has been drawn to the group, but he realizes it's not Satan who is coming. Satan would be a suitable au pair compared to the ancient evil that is in the process of being Reborn.
---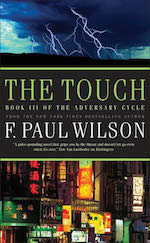 Synopsis: After a dozen years of practicing medicine as a family physician, Dr. Alan Bulmer discovers one day that he can cure any illness with the mere touch of his hand. At first his scientific nature refuses to accept what is happening to him, but there is no rational explanation to be found. So Alan gives himself over to this mysterious power, reveling in the ability to cure the incurable, to give hope to the hopeless—for one hour each day.
Although he tries to hide his power, word inevitably leaks out, and soon Alan's life begins to unravel. His marriage and his practice crumble. Only rich, beautiful, enigmatic Sylvia Nash stands by him. And standing with her is Ba, her Vietnamese gardener, who once witnessed a power such as Dr. Bulmer's in his homeland, where it is called Dat-tay-vao. And the Dat-tay-vao always comes with a price.
Help arrives from an unexpected quarter—Senator James McCready offers the use of his family's medical foundation to investigate Alan's supposed power. If it truly exists, he will back Alan with the full weight of the Foundation's international reputation. Feeling that he has reached bottom and that things can only get better, Alan accepts McCready's offer. But he has only begun to pay.
---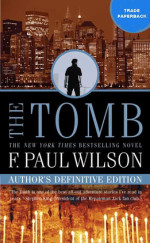 Synopsis: Much to the chagrin of his girlfriend, Gia, Repairman Jack doesn't deal with electronic appliances—he fixes situations for people, situations that usually involve putting himself in deadly danger. His latest project is recovering a stolen necklace, which carries with it an ancient curse that may unleash a horde of Bengali demons. Jack is used to danger, but this time Gia's daughter Vicky is threatened. Can Jack overcome the curse of the yellow necklace and bring Vicky safely back home?
---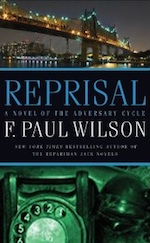 Synopsis: Whenever accused child murderer (and defrocked priest) Bill Ryan is near a telephone, it wails a continuous ring. As soon as somebody answers it, the caller, a long-dead boy, begs to be rescued from the psycho who killed him. A fugitive from the law, Ryan (using the alias Will Ryerson) is stalked by a primeval and malevolent force across America in this successfully formulaic installment of the horror series begun in The Keep.
Detective Sergeant Renaldo Augustino is also hunting Ryan, and plans to torture Ryan before arresting him. Meanwhile, the evil entity is settling an old grudge with Ryan by killing his loved ones. However, the fugitive's fear is neither of apprehension nor death, but of the child whom he buried five years ago in an unmarked grave. A large cast of characters fleshes out the ranks in Wilson's stagy battle pitting good against evil.
---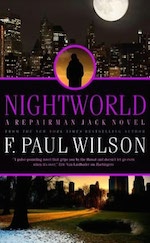 Synopsis:
This is the way the world ends…not with a bang but with a scream in the dark.
The end begins at dawn when the sun rises late.  Then the holes appear.  The first forms in Central Park, in sight of an apartment where Repairman Jack and a man as old as time watch with growing dread.  Gaping holes, bottomless and empty… until sundown when the first unearthly, hungry creatures appear.
NIGHTWORLD brings the Adversary Cycle and the Repairman Jack saga to an apocalyptic finale as Jack and Glaeken search the Secret History to gather a ragtag army for a last stand against the Otherness and a hideously transformed Rasalom.