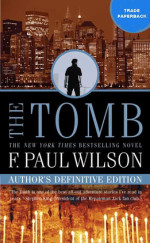 Synopsis: Much to the chagrin of his girlfriend, Gia, Repairman Jack doesn't deal with electronic appliances—he fixes situations for people, situations that usually involve putting himself in deadly danger. His latest project is recovering a stolen necklace, which carries with it an ancient curse that may unleash a horde of Bengali demons. Jack is used to danger, but this time Gia's daughter Vicky is threatened. Can Jack overcome the curse of the yellow necklace and bring Vicky safely back home?
---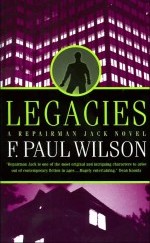 Synopsis: Dr. Alicia Clayton, a pediatrician who treats children with AIDS, is full of secrets. And she has just inherited a house that holds another. Haunted by painful memories, Alicia wants the house destroyed—but somehow everyone she enlists to help ends up violently killed. The house holds a powerful secret, and Alicia's charmless brother Thomas seems willing to do anything to get his hands on that secret himself.
---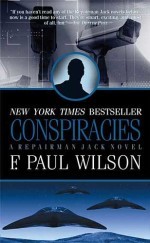 Synopsis: Looking for clues to the mysterious disappearance of leading conspiracy theorist Melanie Ehler, Jack attends a convention of bizarre and avid conspiracy theorists. It's a place where aliens are real, the government is out to get you, and the world is hurtling toward an inevitable war of good versus evil incarnate. Jack finds that nobody can be trusted—and that few people are what they seem.
---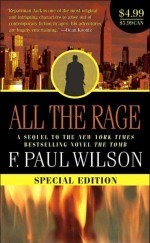 Synopsis: Imagine a new chemical compound, a non-addictive designer drug that heightens your assertiveness, opens the door to your primal self, giving you an edge wherever you compete? Whether on the street or the football field, in a classroom or a boardroom. Wouldn't you be tempted to try it … just once? What happens if it releases uncontrollable rage and makes you a killer?
---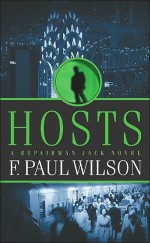 Synopsis: Referred by a mysterious stranger who gives only Jack's name and phone number, Kate is shocked to find out that the "repairman" she seeks is none other than her little brother. With Jack leading the way, Kate finds out that Jeannette's behavior can be traced back to the experimental therapy she underwent for a brain tumor: now Jeannette's brain and those of several other subjects are infected by a mutated virus. Like any good virus, it wants to multiply-and if Jack can't stop the virus in its path, there will be deadly results.
---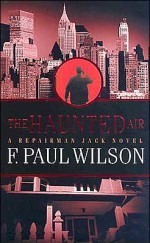 Synopsis: In Astoria, Queens, the lively ethnic enclave just across the river from Manhattan, a house is being haunted by the ghost of a nine-year-old girl in riding clothes. More than two decades before, she'd been abducted from stables in Brooklyn. Now it's up to Jack to uncover the truth of her story and liberate the pretty, blond spirit. Perhaps the answer is in the odd little store called the Shurio Coppe?
---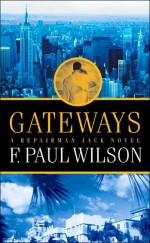 Synopsis: Jack learns that his father is in a coma after a car accident in Florida. They've been on the outs, but this is his dad, so he heads south.Jack's arrival does not go unnoticed. A young woman named Semelee, who has strange talents and lives in an isolated area of the Everglades with a group of misshapen men, feels his presence. She senses that he's "special," like her.
Who is Semelee, and what is her connection to the recent strange deaths of Gateways residents—killed by birds, spiders, and snakes—during the past year? And what are the "lights" Jack keeps hearing about?
---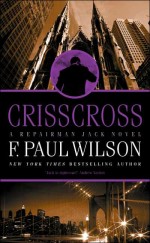 Synopsis: An elderly woman hires Jack to find her missing son. But to locate his quarry, Jack must infiltrate the inner reaches of the Dormentalist Church, a secretive, globe-spanning cult whose members include some of the biggest and most powerful names in entertainment, sports, and politics. Ruthless in its pursuit of critics and enemies, the Church hides a sinister agenda known only to its ruling elite.
---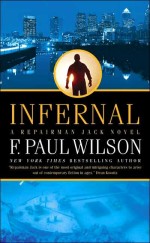 Synopsis: Jack is reunited with his brother Tom, a judge from Philadelphia. They've never been close and Jack, the career criminal, soon finds that he adheres to a higher ethical standard than his brother the judge.
Determined to get to know his brother better, Tom convinces Jack to go on a wild treasure hunt together. Armed only with a map pointing the way to a desolate wreck off the coast of Bermuda, the brothers come across something much stranger, and much more dangerous than mere treasure.
---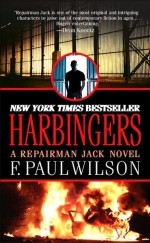 Synopsis: It starts off so simply: Jack is hanging in Julio's when a regular named Timmy asks him for help. His teenage niece has been missing since this morning; the police say it's too early to worry, but Timmy knows something bad has happened. Jack says he'll put the word out on the street. This innocent request triggers a chain of seemingly coincidental events that lead Jack into the darkest days of his life.
---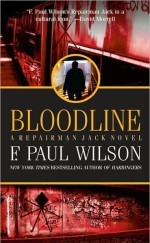 Synopsis: Christy Pickering's eighteen-year-old daughter is dating Jerry Bethlehem, a man twice her age. Christy sensed something shady and sinister about him, so she hired a private investigator to look into his past. But the PI isn't returning her calls. Will Jack find out why?
As Jack delves into Jerry Bethlehem's past he learns that the man is not who he says he is. Who—and what—he is will have a devastating effect on Jack s life and future, adding another piece to the puzzle of who he really is and why he s been drafted into this cosmic shadow war.
---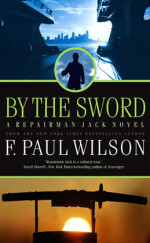 Synopsis: Jack is hired to find a legendary Japanese sword, a katana stolen from the Hiroshima Peace Museum and brought to New York City. Central characters include the members of a weird Japanese cult, a young Japanese businessman and his three Yakuza bodyguards, plus Hank Thompson, the Kicker cult leader from Bloodline. The cult, the businessman, the Yakuza, and the Kickers are looking for the sword as well.
---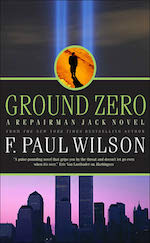 Synopsis: On September 11, 2001, a man drifts in a boat off lower Manhattan as the towers burn. He removes a small box from his pocket and presses a button. As he waits for the south tower to collapse, he thinks: No one—absolutely no one—will guess the truth behind the who and why of this day.
Years later, Jack's childhood friend, Weezy Connell, fits together the pieces of the puzzle and anonymously posts her conclusions on the Web. When someone comes after her, Jack becomes involved in her troubles and in the paranoid maze of the 9/11 Truth Movement, where conspiracy theories point in every direction.
---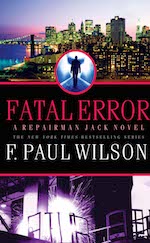 Synopsis: Munir Habib's life has become a nightmare. His tormentor has warned Munir not to report the kidnapping of his family, or else they will pay a terrible price. A friend realizes something is terribly wrong and tells Munir he doesn't have to go to the cops. There's a guy who fixes situations like this-Repairman Jack.
Jack is backed into helping Munir despite his ongoing involvement in the cosmic shadow war between the Ally and the Otherness. Or perhaps because of it. He's chafing at being forced into the defensive role of protecting the Lady, the physical embodiment of the consciousness of the planet Earth.
---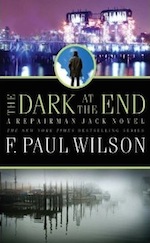 Synopsis: Bound by his promise to Glaeken, Jack has refrained from making any direct moves against Rasalom. But things have changed so there's nothing holding Jack in check any longer. Other changes are occurring as well. Jack is healing at an accelerated rate–much like Glaeken did when he was immortal.
This can only mean that Glaeken's time is almost up and when he dies, Jack takes his place. Rasalom continues to plot against the Lady. Twice she has died and returned; a third time and she will be gone, leaving a clear path for the Otherness to infiltrate this reality. But Ernst Drexler, formerly Rasalom's go-to guy for logistical support, fears he will be left out in the cold when the Change comes. He forms an uneasy alliance with Jack, who is preparing to face their old enemy.
---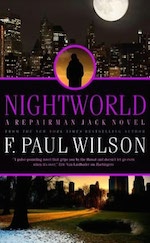 Synopsis: This is the way the world ends… not with a bang but with a scream in the dark.
The end begins at dawn when the sun rises late.  Then the holes appear.  The first forms in Central Park, in sight of an apartment where Repairman Jack and a man as old as time watch with growing dread.  Gaping holes, bottomless and empty… until sundown when the first unearthly, hungry creatures appear.
NIGHTWORLD brings F. Paul Wilson's the Adversary Cycle and the Repairman Jack saga to an apocalyptic finale as Jack and Glaeken search the Secret History to gather a ragtag army for a last stand against the Otherness and a hideously transformed Rasalom.