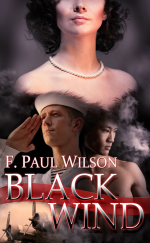 Synopsis: An unforgettable saga of passion and terror, the ravages of war, the pain of betrayal, and the glory of love. Four people torn between love and honor: Matsuo, born in Japan, raised in America, hated in both; Hiroki, his brother who serves a hideous secret cult; Frank Slater, the American who struggles to repay a debt of honor to Matsuo; and Meiko, the woman loved by all three men.
---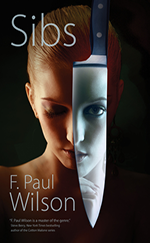 Synopsis: Kara Wade arrives in New York City to claim the body of her twin sister Kelly – and find out how she died. No secret as to the cause of death – a nearly nude, twelve-story plunge from a room in the Plaza Hotel. Kara is determined to learn what led to that plunge. And why Kelly was dressed like a whore when she died.
---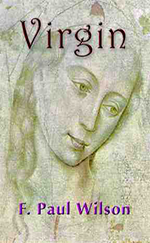 Synopsis: A supernatural thriller of international scope. A two-thousand-year-old scroll is found in the Negev Desert. It describes what might be the final resting place of Mary, the mother of Jesus. To the disappointment of all, the ink is dated as less than a dozen years old. A fake. But one woman believes and goes searching. What she finds will change the world – forever.
---
Synopsis: Quinn Cleary is smart, idealistic and poor. She's been accepted at The Ingraham, a prestigious medical school, where a select few receive the finest education free of charge. But something is terribly wrong at The Ingraham. Quinn notices subtle changes in the bright, hand-picked students. Then she stumbles upon the silent, staring patients in locked Ward C.
---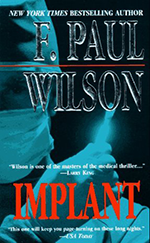 Synopsis: Young doctor Gina Panzella has known her boss, plastic surgeon Dr. Duncan Lathram, almost her entire life, and respects him deeply. Charming and brilliant, Duncan has invented a dissolving implant that allows incisions to heal without scarring. Duncan's artistry in the operation room is the salvation of Washington's biggest power players whenever they need touch-ups for C-Span.
But there are a few things about Duncan that Gina can't quite figure out. Why did he trade vascular surgery for the more profitable but less vital plastic surgery, and why won't he accept his patients' medical insurance? What caused his daughter's death and the breakup of his marriage? Why do his tirades against the new congressional medical ethics committee have such a bitter personal sting? And what is his connection to two committee members who died in accidents not long after Duncan operated on them?
Soon Gina's curiosity about Duncan is replaced by suspicion and fear. With the help of Gerry Canney, a high school classmate now working for the FBI, Gina determines to find out what ruined Duncan's personal life and aroused his wrath against the congressmen. She finds a man much more complex and mysterious than the sharp-tongued but kindhearted physician she though she knew. Then two more congressmen fall ill after Duncan's surgery. And Gina discovers another kind of implant in Duncan's arsenal…
---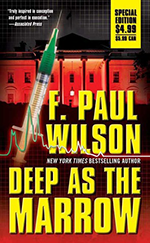 Synopsis: When the president of the United States decides to back the legalization of marijuana, organized crime decides he must die. But for them to succeed, he must die without blame on them. So they are going to make his friend–his personal physician–kill him.First, they kidnap the doctor's daughter.
---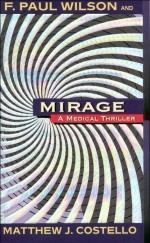 Synospsis: Julie Gordon, a 28-year-old New York neurophysiologist, is pulled away from a breakthrough research project investigating memory via virtual reality technology when she gets an anxious call from her uncle in France. Her estranged twin sister, Samantha, has fallen into an unexplainable coma and seems to be dying, though she does not have a discernible illness. Julie agrees to use "memoryscape," the spectacular computer program she helped create, to search the minefield of her sister's memory.
As Julie already knows, both sisters' history is irrevocably scarred by visions of the tragic house fire that killed their parents 23 years ago. But even more secrets haunt the pair. Now, returning to England with Sam and her uncle in a desperate effort to help her sister recover, the secrets Julie didn't know are revealed. Ultimately, Julie's entire identity is called into question as she confronts the possibility that the twins' careful liberal education may have been an elaborate experiment on the human brain.
The virtual reality sequences in the novel provide stunningly surreal images, compensating for a plot steeped in melodrama. Although the revelatory conclusion may disappoint some readers as too contrived, others may see it as shocking, and most will be entertained by the med-tech details along the way.
---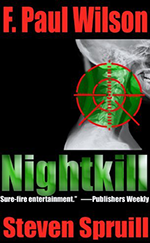 Synopsis: Jake Nacht, a hit man with 17 kills, works for the mob on a freelance basis. He's hired to whack a US Senator during a speech at an outdoor rally. But Jake is double-crossed and winds up paralyzed, his spine severed. His long road to healing changes him, but he needs to regain his killing skills to save people he's come to care about.
---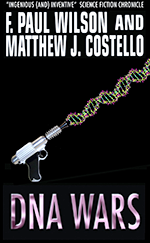 Synopsis: Tristan has no identity, no face, no family, no rights. He is a perfect spy: an artificially created human whose metamorphic DNA can be programmed with "masques."
Previously published under the title Masque.
---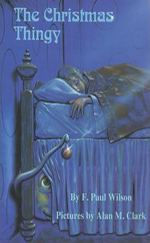 Synopsis: Eight-year-old Jessica Atkins wants a monster for Christmas. Not a big, mean monster; more of a friendly little one to play with when she comes home from school, and maybe scare away the mice who live in her big old London house.
But the old housekeeper, Mrs. Murgatroyd, warns her against wishing for a monster in this house. Exactly one hundred years ago the Christmas Thingy visited this very house and stole away with a load of Christmas presents.
As Mrs. Murgatroyd's mum used to say: "Like a rose must bloom and a pig must squeal, a cow must moo and a thingy must steal. It simply must."
Be careful what you wish for, Jessica…
The Christmas Thingy is a heartwarming story for children (and adults!) of all ages — and a delightful fantasy for every day of the year! When the transforming power of friendship is combined with the magic of the Christmas season, anything can happen. This oversized volume features over two dozen stunning full-color paintings by Alan M. Clark!
---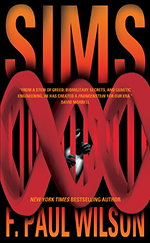 Synopsis: Just a few hundred genes separate humans from chimpanzees. Imagine someone altering the chimp genome, splicing in human genes to increase the size of the cranium, reduce the amount of body hair, enable speech. What sort of creature would result?
Sims takes place in the very near future, when the science of genetics is fulfilling its vaunted potential. It's a world where genetically transmitted diseases are being eliminated. A world where dangerous or boring manual labor is gradually being transferred to "sims," genetically altered chimps who occupy a gray zone between simian and human. The chief innovator in this world is SimGen, which owns the patent on the sim genome and has begun leasing the creatures worldwide.
But SimGen is not quite what it seems. It has secrets . . . secrets beyond patents and proprietary processes . . . secrets it will go to any lengths to protect. Sims explores this brave new world as it is turned upside down and torn apart when lawyer Patrick Sullivan decides to try to unionize the sims.
Right now, as you read these words, some company somewhere in the world is toying with the chimp genome. That is not fiction, it is fact. Sims is a science thriller that will come true. One way or another.
---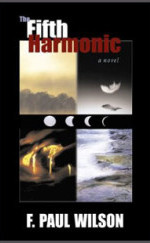 Synopsis: Will Burleigh is a hard-nosed, no-nonsense M.D. totally dedicated to the health and welfare of the patients in his practice. But when he himself is diagnosed with throat cancer, he can't bear the idea of undergoing massive radiation and radical surgery that will leave him permanently disfigured—all with no guarantee he will live at all.
Having made peace with his decision to die, Will is nonetheless convinced by a former patient to visit a healer, a mysterious and beautiful woman named Maya who claims she can help him, but only if he opens himself up completely to her and the harmony of the world around him.
To find that harmony, she insists, Will must follow her to Mesoamerica, to the home of her people, to search for what she calls the Fifth Harmonic. Will agrees, but he secretly brings along what he calls a "Kevorkian Kit" to give him a quick end in case his rapidly spreading tumor gets the best of him. Maya too, has her secrets, and as Will unravels them, he begins to fear he might have made a terrible mistake.
---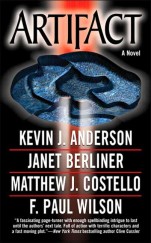 Synopsis: The Prize: Unlimited Power
Six adrenalin junkies who call themselves the Daredevils Club hold the fate of the world in their hands. In an ancient undersea cavern, one of them, oil man Frik van Alman, discovers a set of stones that are unlike anything else on Earth. Fitted together, the stones form an object that promises limitless free energy for the world.
After a terrified scientist scatters the pieces, the club members race to retrieve them. Each knows that whoever reassembles the unique device will have unlimited power at his or her fingertips. Can anyone be trusted?
In a thrilling adventure that stretches from deep beneath the Caribbean to the penthouses of Las Vegas, friend battles friend for control of the Artifact.
---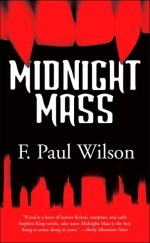 Synopsis: Vampires have always lived in Eastern Europe. But with the fall of the Soviet Union, they began to spread across the continent, then the world, turning whole populations into vampires–or human cattle. Having overrun India, the far East, and the great cities of North and South America, the forces of Night are now spreading into the countryside to consolidate their conquest.
In a town on the New Jersey shore, the vampires have just arrived, along with their human henchmen, the cowboys, who round up human cattle for the overlords in return for the promise of eternal life—later. For the vampires wish only a few of their own kind to rule, and feed. The rest of humanity are to be helpless herds, the source of the blood of life.
Falsely accused of abuse, Father Dan is drunk in a basement waiting for the end. His superior has betrayed the local Catholic congregation and become a vampire. Carolyn has become a formidable killer of cowboys and vampires. Dan's niece, escaped from the conquest of New York, has made her way south to find him. Brought together by Rabbi Zev Wolpin, who is shaken by the vampires' fear of the cross and holy water, they plan their resistance. Against all odds, they discover that there just might be a way for humanity to really fight back. But first they will have to kill the vampire king of New York.
---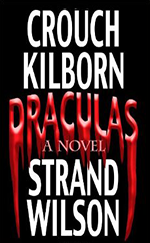 Synopsis: A DYING MAN'S GREATEST TREASURE…
Mortimer Moorecook, retired Wall Street raider, avid collector, is losing his fight against cancer. With weeks to live, a package arrives at the door of his hillside mansion—an artifact he paid millions for…a hominoid skull with elongated teeth, discovered in a farmer's field in the Romanian countryside. With Shanna, his beautiful research assistant looking on, he sinks the skull's razor sharp fangs into his neck, and immediately goes into convulsions.
OPENS THE DOOR TO AN ANCIENT EVIL…
A rural hospital. A slow night in the ER. Until Moorecook arrives strapped to a gurney, where he promptly codes and dies.
WHERE DEATH IS JUST THE BEGINNING.
Four well-known horror authors pool their penchants for scares and thrills, and tackle one of the greatest of all legends, with each writer creating a unique character and following them through a vampire outbreak in a secluded hospital. The goal was simple: write the most intense novel they possibly could.
Which they did.
A Word of Warning: Within these pages, you will find no black capes, no satin-lined coffins, no brooding heartthrobs who want to talk about your feelings. Forget sunlight and stakes. Throw out your garlic and your crosses. This is the Anti-TWILIGHT.
---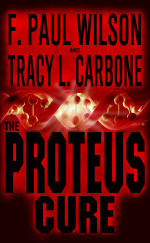 Synopsis: In medical ethics, the line between right and wrong is often blurred. Who is to decide what is for the good of humanity?Changing the world. One person at a time…
That is the mission statement of Tethys Hospital, run by Dr. Bill Gilchrist and his deformed sister, Abra. VG723, their revolutionary stem-cell-based therapy, appears to be capable of doing just that for the cancer patients who come to Tethys. VG723 is often their last hope. But if they match the protocol, they're virtually guaranteed a cure.
Dr. Sheila Takamura, a young, dedicated oncologist, is proud to be involved in the clinical trials. Once the FDA approves it for widespread use, VG723 will revolutionize cancer therapy. That is why she's alarmed when former patients return with bizarre syndromes. Yes, they're cancer free, but they're experiencing dramatic changes in their hair and skin and general appearance. When she investigates a possible link to the protocol, those patients start dying. As the body count grows, Sheila finds her own life in danger. She comes to suspect there might be a literal meaning behind the Tethys motto – but can she learn the truth in time to save herself and millions of others?
---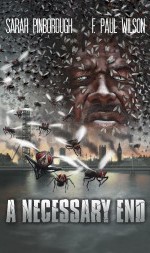 Synopsis: LIFE CAME OUT OF AFRICA… But now it's death's turn…
It spreads like a plague but it's not a disease. Medical science is helpless against the deadly autoimmune reaction caused by the bite of the swarming African flies. Billions are dead, more are dying. Across the world, governments are falling, civilization is crumbling, and everywhere those still alive fear the death carried in the skies. Some say the flies are a freak mutation, others say they're man made, but as hope of beating them fades, most turn to the only comfort left and see the plague as God's will. He sent a deadly deluge the last time He was upset with mankind. This time He has darkened the sky with deadly flies. And perhaps that is true, for so many of the afflicted speak with their dying breaths of seeing God coming for them. But not everyone dies.
A very few seem immune. They call themselves mungus and preach acceptance of the plague, encouraging people to allow themselves to be bitten by "the flies of the Lord" so that they may join Him in the afterlife. Nigel, an investigative reporter, searches the apocalyptic landscape of plague-ravaged England in search of Bandora, a kidnapped African boy. On a quest for personal redemption as well as the truth, his search takes him away from the troubles he can no longer face at home, and into the world of the head mungu, a man who speaks truth in riddles and has no fear of the African flies.
A Necessary End is about apocalypse, about love, about the fragile bonds that hold marriages and civilizations together. But mostly it's about truth – how we find it, how we embrace or reject it, and how we must face the truths within ourselves.
---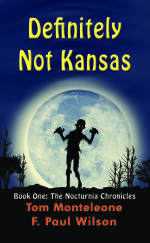 Synopsis: Welcome to Nocturnia, where the monsters have their own nation states and humans are either slaves, or food, or both. Where even the flowers will suck your blood if you venture near. As Emma and Ryan search for a way home, they come to suspect they did not arrive in Nocturnia by accident. But if not, why are they here? Are their destinies somehow entwined with this nightmare world?